Leading the Charge on Sustainability: Moving from Awareness to Action
In spite of their small size, the SME segment constitutes 90% of the British economy and has a profound impact on the wider economy and value chains, allowing them to have the capacity to drive the UK's sustainability agenda forward. Our report explores how UK SMEs have transformed by translating awareness of sustainability to tangible action and the challenges they face in driving real change in sustainability.
Key insights:

8 in 10 SMEs in the UK express that they are committed to sustainability
39% of SMEs committed to sustainability identified the risk of disruption as a major concern in implementing sustainability
More than 30% of UK SMEs want support to improve their sustainability performance
Sustainability does not have to be a daunting and impossible task for SMEs.
It only takes one right step to transform. Let us help you get started on your sustainability journey through our one-stop solution powered for SMEs.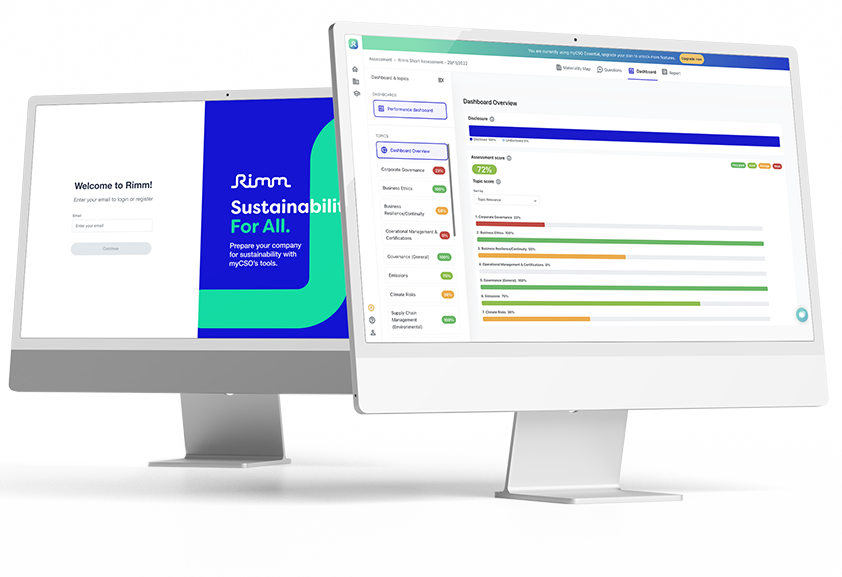 Our one-of-a-kind SaaS platform has been created as an accessible solution for SMEs to monitor and manage their sustainability progress, as a Chief Sustainability Officer would, with an end-to-end suite of tools.
myCSO includes:
One-click assessments based on sustainability standards to show you the exact areas your company needs to improve.
Strengthen your company's positioning in your industry by benchmarking your performance against data on over 12,000 companies.
Analyze your company's risks - and be prepared for any situation such as changes in stakeholder expectations.
Want to explore how myCSO can support and assist your business to start on your sustainability journey? Book a demo with us today.